Color:
Yellow,Green,Grey,Red,Blue,etc
Surface:
Smooth, Anti-Slip, etc
Delivery Time:
7-25 Days According to Oder Quantity
Transport Package:
Wood Pallets, Iron Pallet, Carton or Customized
Origin:
Hebei, China (Mainland)
FRP GRPÂ Grating
Description
    FRP grating is perforated sheet by using glass fiber as a reinforced material, unsaturated polyester resin as matrix through a special composite process. FRP grating can be used as a structure material applied floor in a corrosive environment, trench cover, platforms, ship decks, stairs, walkway and so on.

    Grating adopts fiberglass braiding process, resin cast integrally molded technique for its excellent mechanical characteristics. It can be widely used in petroleum, chemical and electronics, electricity, paper, printing and dyeing, electroplating, ocean exploration, sewage treatment and other industries to serve as working platform, equipment platform, drilling platforms, walkways, etc. It is the ideal product applied in corrosive environments, but also applies in civil facilities.
FRP grating Photos: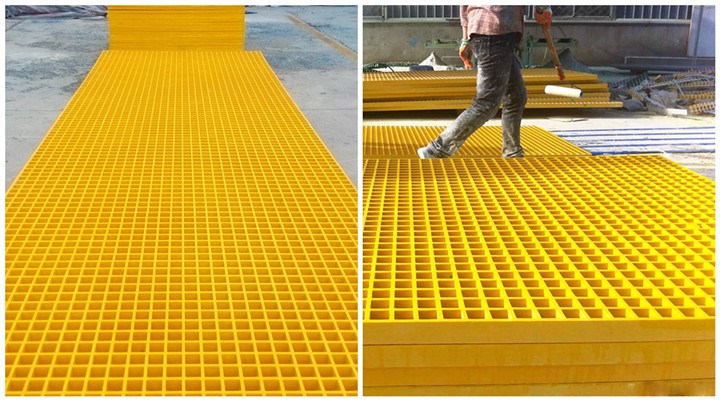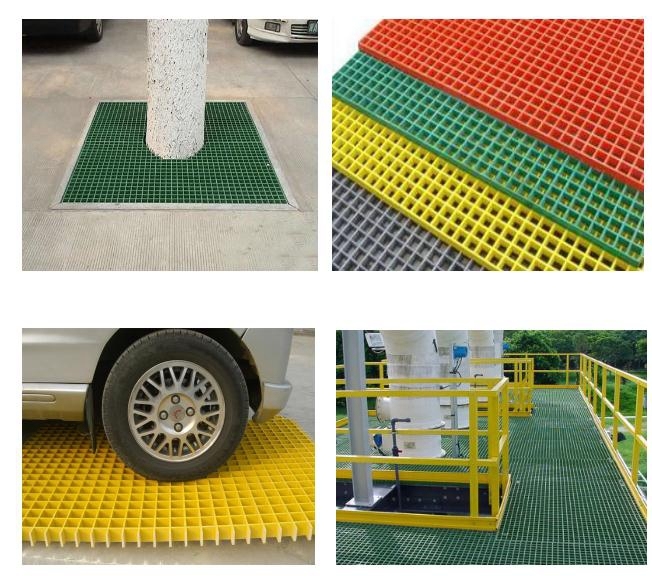 FRP grating characteristics:
1.Corrosive resistance

    It has a very excellent resistance to acid, alkali, organic solvents, salts and many other corrosive gas and liquid medium. In the field of anti-corrosion it has incomparable superiority. Based on actual situation, it can be economically choosen phthalic, isophthalic , vinyl resin as matrix material.
   
    Lightweight, high strength, easy to cut and install.
   
     Made by resin and fiberglass, the grating having a density of no more than 2 kg per cubic decimeter, only 1/4 of the steel, 2/3 of the aluminum. Its strength is 10 times of rigid PVC, and absolute strength exceeds ordinary steel and aluminum. Its light weight can greatly reduce the base support, thereby reduce the material cost of the project. The FRP grating can be easy cut and installed, no need of large lifting equipment. For installation only needs a small amount of workers and electric tools, so the installation costs are greatly reduced.

2.Anti-aging

In theory, the service life of 50 years.

3.Flame-retardant

    For common flame-retardant grating the flame propagation rate (ASTM E-84) does not exceed 25; For flame-retardant vinyl grating the flame propagation rate does not exceed 10. Oxygen index is no less than 28 (GB 8924).

4.Safety

    The grating has excellent electrical insulation, no breakdown under 10KV voltage; No electromagnetic properties. It can be used on magnetic sensitive equipment; FRP grating's special structure also has a non-slip, anti-fatigue properties.

5.Color

    Color can be arbitrarily chosen. Colors can be customized according to customer requirements for improving the production workplace environment. The ordinary grating colors: yellow, gray, green, blue, red as well as transparent or translucent and so on. During using you can choose one single color or can combine several colors.

6.Flexible design

    Flexible size, easy to cut, dimensional stability.
FRP gratings (FRP grid) applications:
    Water treatment: inspecting walkways, sewer covers, large containers, cleaning equipment, trash racks, drain chutes, biochemical water treatment pool hanger, hopper windows, stairs, cooling towers operation platform

    Chemical: stair tread plate, operating platforms, guard rails, double floor, trench cover, filtering grating

    Oil industry: offshore oil platform

    Textile mills: Instead of a metal grating and wooden platform covered with concrete, the frp grating can be used near the bleaching vat, floors, etc.

    Power: Chemical water workshop trench cover, waste water pools

    Metal surface treatment: pickling liquid workshop, around the machine instead of wooden floors, surrounded by high
corrosive container, plating line walkway, double floor

    Marine food processing plants: satiny surface and other harsh environment, the ship

    Transportation: platforms, ship decks, walkways, military minesweepers, stair tread plate

    Beverage industry: stair tread to replace expensive stainless steel, floor with load

    Pulp processing plants: stair tread panels and floor, floor walkway, humidity place

    Electronics industry: trench cover, pickling workshop, anti-static (static grid) and high cleanliness workshop

    Meat processing plants: corrosive ground, stairs, slippery floors and stairs tread plate table

    Car wash / car beauty shop: car wash drainage board, parking, washing room trench cover

    Cranes: 3 m or 6 m long walkway on crane

    Other: corrosion-resistant shelves, decorative purpose, square fountain, scaffolding, civil facilities, aquaculture fence and double floors, etc.
Grating types
    Grating with smooth surface, grating with gritted surface, grating with concave surface, mini-mesh double layer grating, grating with cover plate, grating with gritted cover plate, grating with grinded surface
Grating specifications
 
Thickness(mm)

Mesh size(mm)

LXW
(mm)

Bearing bar  (mm)

Bearing bar  (mm)

Hole rate
(%)
Panle weight
(kg)

40

40x40

1007x3007

7

5

64

60

30

20x20

1007x4047

6.5

5

40

65

25

100x25

1007x3007

6.5

5.5

66

35

25

40x40

1007x3007

6.5

5

64

33

25

38x38

1220x3660

6.4

5

69

52

38

38x38

1220x3660

7

5

69

85

50

50x50

1220x3660

8

6

72

100

15

50x50

1220x3660

6.4

5

72

28
Grating fittings (clamps)
Characteristics of different FRP grating connectors:

1. L-type connectors: for moderate loads and special positioning connection of bracket.
2. M-type connector: stable fixing, for grating bracket and bracket positioning connection .
3. C-type connectors: for connecting side edges of two grating plates integrally.
FRP grating installation
 FRP grating installation for trench cover

1. According to grating single-cell size, adjust the trench size as much as possible to keep close side of the grating after cutting and to keep the integrity of the cell for nice vision effect.
2. The supporting of FRP grating on a concrete foundation is at least 50mm wide. Gap between the grating and concrete is 3-6mm.

FRP grating installation for platform

1. The supported side of the grating over the steel beams is at least 40mm wide. The installation gap between the grating plates is 6mm. The gap between grating and concrete columns is 10mm.
2. Between the grating and steel beams fix with M-type or L-type clamp. At least 4 pieces for each grating. C-clamps should be used for connecting the side edges of two adjacent and non-supporting gratings. At the center of each 1.8m long at least use one piece.

FRP grating installation for stairs

1. FRP grating should be installed within the frame or bracket of tread. The frame and bracket may be steel or fiberglass.
2. The gap between the FRP grating and frame is 3-6mm, for each tread fix with each eight fixed clamp. For each corner use 2 pieces. The grating can also be directly fixed to the bracket.

FRP grating maintenance

1, During usage please use washing liquid to clean the dust, dirt on the surface. No need of other maintenance measures.
2, During usage avoid direct contact with welding, oxyacetylene flame and other open flame in the course of steel structure and equipment maintenance.
3, During usage avoid drag, impact damage and paint contamination of steel material and tools in the course of various steel structures and equipment maintenance.
 
Whether you use them daily, or just once a season, battery-powered hedge trimmers fit the bill. Cordless Hedge Trimmer is recommended for use in the range of battery powered rechargeable garden tools, because it is a good kind of cordless trimmers. Once charging full one time, generally it can finish cutting your whole garden very easily.
Cordless Hedge Trimmer
Cordless Hedge Trimmer,Battery Powered Hedge Trimmer,Battery Hedge Trimmer,Rechargeable Hedge Trimmer
Ningbo Vertak Mechanical And Electronic Co., Ltd. , http://www.vertakgarden.com